Cyrille Conan was born in 1973 and grew up in Queens, NY to French immigrants. He is first generation American and is bilingual. He has dual-citizenship and identifies both as French and American. This duality is apparent in his artwork. The graphic nature and grit of the work derives from growing up in NYC in the 70s & 80s and the love of nature and natural forms distilled in him from Celtic/Breton culture have transformed into a minimal, organic, geometrical abstraction.
Cyrille has been developing a vocabulary of various mark making, collage and textures to allow for the paintings to generate as honestly and intuitively as possible. Each layer informs and dictates the final composition until he finds a visual balance of form, color and repetition.
He considers his improvisational process to be a response to the intersection of two modern phenomena: the destruction of nature, and the growth of technology. Having a regular studio practice keeps him connected to nature and is an act of defiance against our current condition.
Cyrille graduated with a BFA in Painting from the Hartford Art School before planting his roots in Boston in 1998.
While his primary practice is still painting, he works in a variety of mediums and scales. He's produced site-specific installations and murals in numerous states as well as local galleries and public spaces in Boston, including The Cyclorama, The Museum of Fine Arts, Boston and Boston City Hall.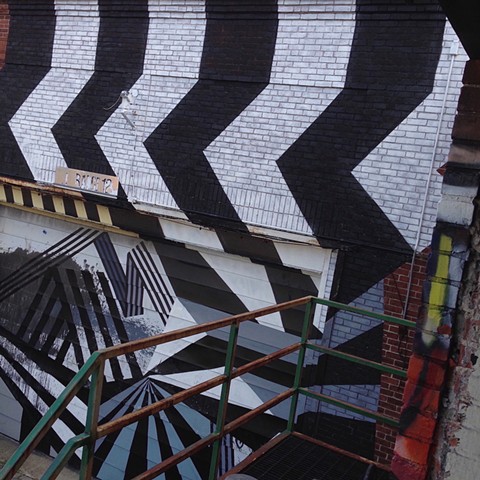 Cyrille Conan
Roxbury, MA 02119
cyrilleconan@gmail.com
American/French
b. 1973, New York, NY
lives/works: metro Boston
Selected Exhibitions
2023:
VISUAL LANGUAGES, group show @Arno Maris Gallery,
Westfield State University.
CONFLICTED CULTURE, collaborations with MERKAVELI
@Curation250, Lowell,MA.
2022:
FOLIES Á DEUX two man show with Kenji Nakayama
collaborations and solo work @Trustman Gallery,
Simmons University Boston, MA
CYRILLE CONAN @SAMSØN/APT solo Boston, MA
GHOST FORESTS with David Buckley Borden (group show)
@Trustman Gallery Simmons University Boston, MA
CONVERGENCE, group show at 238 Main Street/MIT
(curated by ART_WORKS + AVEC_ARTS)
PLENTY, group show @13FOREST Arlington,MA
2020:
GWELET PESKED E BARZ AL LÊZ (seeing fish in the milk)
Solo show @Shelter In Place Gallery Boston, MA
ARTRAGEOUS34! @Monterrat College of Art Beverly, MA
LEAPS OF IMAGINATION- (curated by Natalie Lemle and Mallory Ruymann) @ARTFARE
MESSY GEOMETRY with Matt Murphy @Gallery1832 @MITLabCentral Cambridge, MA
2019:
PENPALS ,a group show of collaborations.(curated by Helen Popinchalk and Mary Lewey) @Distillery Gallery South Boston, MA
2018:
ART FAIR @Porch Gallery Minneapolis, MN
HUBWEEK: ILLUSION ROOM City Hall Plaza, Boston, MA
ARTSE-(curated by Street Theory Gallery) Boston, MA
2017:
PATTERNED: LAYERS OF TRUTH @MassArt Sparring Partners Gallery Boston, MA
CO-CO-COLLABO @Children's Museum/Boston
SOLIDARITY WITH PUERTO RICO art auction @Distillery Gallery South Boston, MA
HUBWEEK: NEON DREAMS Collaboration with Trifecta Editions and Anti-Designs Boston City Hall Plaza, Boston, MA
2016:
GO TO THE LIGHT @Blanc Gallery/Casablanca Boston, MA
L'APPEL DU VIDE (solo) @Carol Schlosberg Gallery/Montserrat College of Art Beverly, MA
GO TO THE LIGHT 2 @301 Gallery/Montserrat College of Art Beverly, MA
A GROUP THING @Thomas Young Gallery South Boston, MA
#MFANOW (live mural) @Lower Linde Gallery/ Museum of Fine Arts-Boston
BOXED! @Nave Gallery Somerville, MA
ARTISTS FOR STANDING ROCK (benefit) @Distillery Gallery South Boston, MA
PAPER PRAYERS @Barbara Krakow Gallery Boston, MA
2015:
STING XIX, Street Study @ The Beehive Boston, MA
GOD BLESS THIS MESH @Thomas Young Gallery Boston,MA
HIBERNACULUM @Boston Innov. and Design Center S.Boston, MA
EMERGE, Boston Arts Festival @Boston City Hall, MA
TRIFECTA YEAR 2, 301 Gallery @Monserrat College of Art Beverly, MA
2014:
MASSACHUSETTS @ Gallery 263 Cambridge, MA (curated by Dina Deitsch)
TRIFECTA YEAR ONE @ Fourth Wall Gallery Boston, MA
SPITTIN' FEATHERS... @210 Broadway Cambridge, MA
for The Decordova Museum Corporate Program
WONDER + AWE @Silpe Gallery West Hartford, CT
BCAMFCAAATC @ First Night Boston (curated by Pat Falco)
2013:
NATURE CALLS...W/ Josh Falk @Lot F Gallery Boston, MA
150 X150 @ Laconia Gallery Boston, MA
BARTLETT YARD MURAL FESTIVAL @ Roxbury, MA
ON CUE @ BCA, Boston (The Cyclorama)
ROADSIDE ATTRACTIONS @ Drive-By Projects Allston, MA
2012:
OFF THE PAGE 2 @ Boston Harbor Arts Festival East Boston, MA
WINTER SALAD @ LOT F Gallery Boston, MA
META @ Gallery 263 Cambridge, MA (curated by Camilo Alvarez)
WALLPOWER @ Suffolk University Art Gallery, NESAD
Boston, MA (curated by James Hull)
2011:
BUMPKIN FORWARD @ Mobius Boston, MA
OFF THE PAGE @Boston Harbor Arts Festival East Boston, MA
FIRST IMPACT @ Yes, Oui, Si Gallery Boston, MA
2010:
150x150 @ Laconia Gallery Boston, MA
THE STORE SHOW @ MEME Gallery Cambridge, MA
THE BERWICK INSTITUTE'S ART ENCAMPMENT 2010 @ Bumpkin Island, MA
HOT OFF THE... @ Hartford Art School Alumni Show West Hartford, CT
ILLUMINATED MANUSCRIPTS @ Anthony Greany Gallery Boston, MA
PROOF OF PURCHASE III @ Samson Boston, MA
2009:
INSIDE/OUT @ SMFA Boston, MA
NEW WORK,OLD WORK AND WORK IN PROGRESS @ A Street Gallery Boston, MA
2008:
SOLO EXHIBITION @ Achilles Project S. Boston, MA
SIZE IS RELATIVE, Alumni Show @ The Silpe Gallery, Hartford Art School, CT
ART SCOPE 1 @ The Beehive Boston, MA
2007:
WORD OF MOUTH: FITS IN A BOX @ Bridge Art Fair Miami, FL
PROOF OF PURCHASE 2 @ Rhys Gallery Boston, MA
Fort-Point Open Studios @ 251 A Street, S. Boston, MA
2006:
OPEN CALL/SIZE MATTERS @ Rhys Gallery Boston, MA (Juried by Barbara Lee and William Stover).
SMFA DECEMBER EXHIBITION AND SALE @ The Grossman Gallery Boston, MA
2005:
WORD OF MOUTH: WORK ON PAPER @ The Rhys Gallery Roxbury MA
SMFA DECEMBER EXHIBITION AND SALE @ The Grossman Gallery Boston, MA
H2O GROUP EXHIBITION @ DNA Gallery Provincetown, MA